4 Eylül 2008 Perşembe
, Kategori:
Kitaplar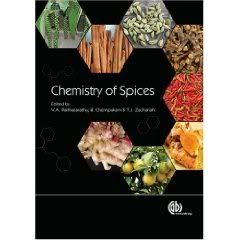 V.A. Parthasarathy, B Chempakam, T.J. Zachariah "Chemistry of Spices"
CABI | 2008-07-15 | ISBN: 1845934059 | 400 pages | PDF | 1,9 MB
Spices are high value, export-oriented crops used extensively in food and beverage flavourings, medicines, cosmetics and perfumes. Interest is growing however in the theoretical and practical aspects of the biosynthetic mechanisms of active components in spices as well as the relationship between the biological activity and chemical structure of these secondary metabolites. A wide variety of phenolic substances and amides derived from spices have been found to possess potent chemopreventive, anti-mutagenic, anti-oxidant and anti-carcinogenic properties. Representing the first discussion of the chemical properties of a wide cross section of important spices, this book covers extensively the three broad categories of plant-derived natural products: the terpenoids, the alkaloids and the phenyl propanoids and allied phenolic compounds. Spice crops such as black pepper, ginger, turmeric and coriander are covered with information on botany, composition, uses, chemistry, international specifications and the properties of a broad range of common and uncommon spices.
Chemistry of Spices için yorumlar kapalı